Carpet is more than just a piece of cloth laid on the floor of our room. By selecting carpets of the right colour and texture, they are great options that can help us set the tone of our home and make them unique. However, given Singapore's warm and humid climate, you may wonder if a carpet is suitable for our homes. With many carpet cleaning providers in the market, carpet maintenance and cleaning has been made so convenient and widely available that you no longer have to worry about how to maintain your carpets. At Presto Drycleaners, we provide carpet cleaning services with free home pickup and delivery. You can easily book an appointment with us via our Online Booking link.
It can be overwhelming to see many colours and materials of carpet during your furniture and carpet shopping at stores like Ikea, Crate and Barrel and Finn Avenue. Selecting one for your home can be a challenge. In general, carpets can be differentiated into 3 broad categories – natural fibers, synthetic fibers and animal skin.
Natural Fibers Carpet
Natural fibres are found naturally and are developed/spun from both animal hair or plants. Examples of animal based fibres is wool, while plant-based fibres can be cotton, jute, bamboo, sisal, seagrass, tencel, etc. With the hot and rainy climate in Singapore, we would like to share our 2 favorite plant-based materials that are recyclable and easy to maintain.
Natural Material: Jute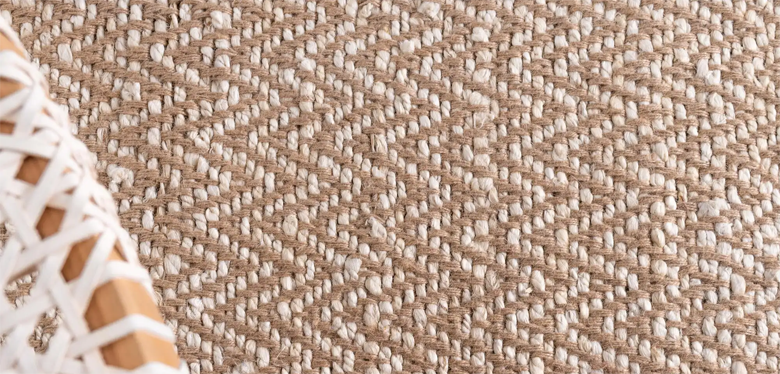 Jute is a natural plant fibre that comes from the bark of a white jute plant. This material is often referred to as gold due to its versatility and its natural silky and golden shine. Using it as a material for carpet is eco-friendly as it is biodegradable, compostable and recyclable. Since it originates from a plant, it comes in different shades of brown. Placing a jute carpet in one's room helps to create a down to earth, comfortable and tropical ambience to your home. In terms of maintaining, it comes with little to no effort as they are extremely durable and easy to clean. For those who love plants and would like to create a green and tropical vibe at home, you can check out Braided Jute Rug from Irugs or LOHALS from Ikea. Jute is one of the softest and most inexpensive natural fiber carpet flooring choices available.
Natural Material: Bamboo Silk

Bamboo silk is a natural fibre that comes from the bamboo tree cellulose. For those who are looking for carpets with a luxurious finish, you might want to go for bamboo silk instead of silk as it is a sustainable and renewable resource. They are soft, beautiful and have an elegant look and feel. When combined with cotton, they are a wonderful element to achieving a non-pile fabric. As such, a bamboo silk carpet will be a lovely addition to one's home.
However, due to the delicate nature, you should be careful to clean or maintain them. Bamboo silk reacts poorly to water, as such it is suggested to place them in low traffic areas and as much as possible and avoid spilling anything on them. One should attempt to wash them off immediately once stained and seek professional help immediately if they were to stain their bamboo silk rug. The Bamboo Silk Rug from iRug would be a good selection if you are in love with the luxurious finish of a bamboo carpet.
Synthetic Fiber Carpets
With technology advancements, man-made textiles can be produced. With the addition of these materials, it provides consumers with more choices when selecting carpets. As compared to natural materials, synthetic fabrics have different or enhanced properties. For a value for money, easy to maintain carpet choice, we would like to share two of the more common and easy to manage man-made textiles.
Synthetic Material: Polyester

Polyester is a synthetic material that is very popular for carpet in the market today as they require little care to maintain. They are oil-based and are known for their stain resistance. Polyester carpets are great at resisting any water-based liquids like pet urine, spills and drinks. However, it is very important to protect your polyester carpet from anything oil-based stains as they are known to absorb oil. It would be hard to remove once the carpet has absorbed them. Memphis II Steel Grey Shag Rug from Crate and Barrel is one of the popular options which you should consider when getting a cut pile Polyester carpet.
Synthetic Material: Polypropylene
Also known as Olefin, this synthetic material does not absorb water. Thus, to give it a colour, the material is dyed with a solution to introduce colour into the fibre. Once the pigmentation process is completed, the colour would not be able to remove or fade even when exposed to intense sunlight, bleaching agents or other harsh chemicals. Due to its water-resistance nature, olefin carpets and rugs are stain-resistant, mould resistant and easy to clean. Contrarily, it is important to note that Olefin is not as flexible as other fibres. As such, we will usually see them in knot pile and that their pile heights are not that high, just like Essenza Flatwoven Rug or Star Flatwoven Rug from HipVan.
With that, these are four types of carpet which are easy to maintain and suitable for Singapore's home. Ideally, it is still important to vacuum your carpets frequently and remove stains immediately to ensure the cleanliness of the carpet. From time to time, one should bring the carpets for professional cleaning at least once in a year to maintain them. You can always entrust your carpet to Presto Drycleaners and we will ensure that we return you with a clean carpet so that you can place them at home to brighten up the ambience of your home. If you have any enquiries on carpet care or our carpet cleaning services, you can always visit our website to chat with us or call our friendly staff at 6354 3277. We are always here for you!