In the recent Spring 2020 collection, trench coats can be spotted on the runway of various labels and brands. From a simple and multi-purpose military coat, it has now been reconstructed with new elements and details like detachable skirts, side button, open slit sleeves, and double lapels for today's runway and our everyday life. The trench coat is a timeless piece which you can wear by itself with a bottom or pair it with something inside and you are good to go. Even though trench coats might not be a regular wear for us in Singapore, we're sure that the beauty modernised by the everyday trench coat is sure to captivate you. Should we choose to purchase one and wear it once or twice a year during our overseas fall/winter trips, it is very important to learn the proper care and storage routine you should put in place to ensure that your trench coat remains fresh, clean and free from storage stains.
Due to the delicate fabric used for the outer and inner layers, trench coats are typically a dry clean only garment, this would mean that they cannot be laundered in the washing machine as it would cause damage such as shrinkage and distortion to the fabric. At Presto Drycleaners, we have experience handling luxury winter items from brands like Burberry, Chanel, Moncler or Canada Goose. Before we delve further into the care routine for trench coats, let us begin by looking back in time and understanding the origins of the Classic Trench Coat, and how it has evolved to become a statement piece in our winter wear wardrobe today.
Who invented the trench coat?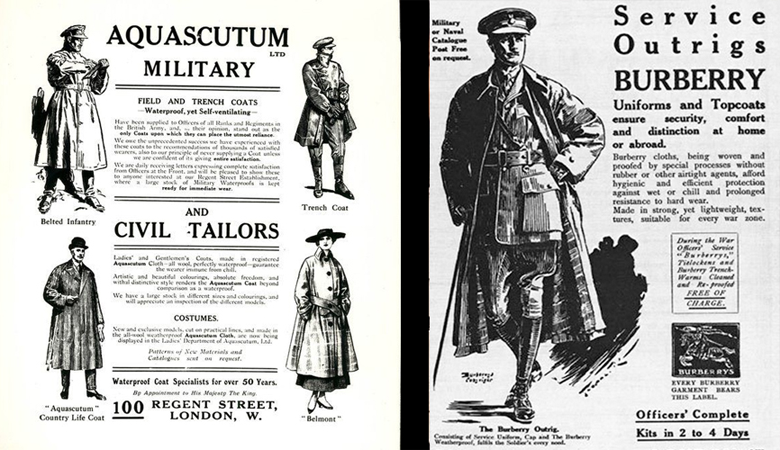 Many have thought that the trench coat was invented during the World War I period. If you thought so too, you ought to continue reading. Way before it was used for war and named as the trench coat, it was designed with the main purpose to shield people from the rain. Developed by a Scottish chemist and an English Inventor, Charles Macintosh and Thomas Hancock, they have managed to make a long coat waterproof by coating it with rubber. However, it is not breathable and would trap sweat within the clothing.
Later in 1853 and 1856, John Emary and Thomas Burberry managed to invent a waterproof and more breathable fabric respectively.
Branded as Aquascutum, the meaning of water and shield, John Emary had created and patented a water-repellent fabric that is both breathable and not smelly. His version of the waterproof coats was popularised and worn during the Crimean war. As for Burberry, the brand that has been rocking the fashion runway till today, Thomas Burberry invented a far more breathable twill fabric called Geraldine in 1879 by individually coating yarns of cotton or wool.
As such, throughout the years, Aquascutum and Burberry have created their own forms of nicely tailored waterproof activewear for the wealthy who enjoy outdoor activities like fishing, shooting, golfing and coat.
Trench Coat during wartime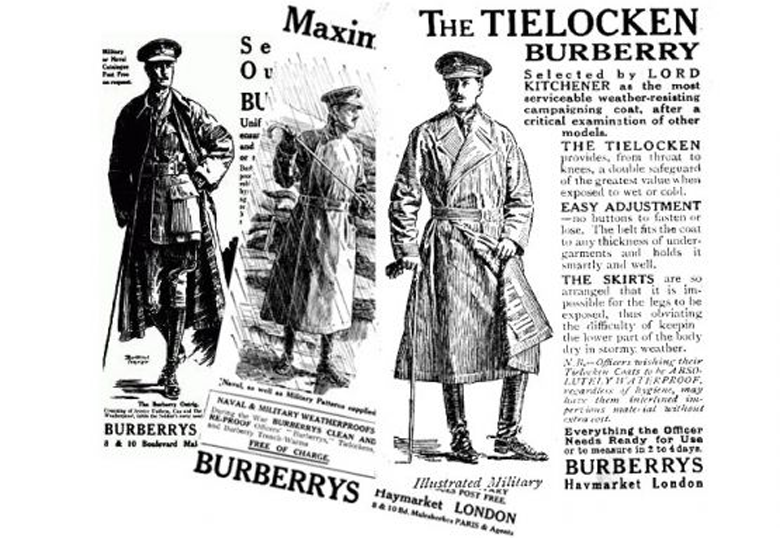 Burberry waterproof coats began to take lead in the 19th century. During the Boer War (1899-1902), they were unofficially worn by the British Officers which was known to have contributed to their wartime success. In the middle of this war in 1901, Burberry submitted an army raincoat design to England's War Office which was then approved. In 1914, Burberry was officially appointed to create a gabardine coat for the British Army's officers which were then named as "Tielocken". Given that the trench warfare was widely used during WW1, this marks the start of the trenchcoat due to its comfortability and practicality in trenches.
Some features of the trench coat that were useful for wartime

As the coat got adopted for military uses, it has gone through many adaptations to suit the officers at war. Here are some of the features that were made for the military which still remains in the modern coat today.
Khaki Coloured: Given that colour Khaki is very close to soil colour, this helps the soldiers stay concealed and camouflaged.
Shoulder Straps: Located on top of the shoulder, it is made for soldiers epaulettes and rank emblem. It also serves as a protection against shotguns.
D rings: Hold equipment like map cases and swords
Ventilation flaps: Keep the coats breathable by removing odours
Cuff straps: Secure Binoculars
Flared and Below the knee length: Avoid touching the mud and allow maximum movement
Moving into fashion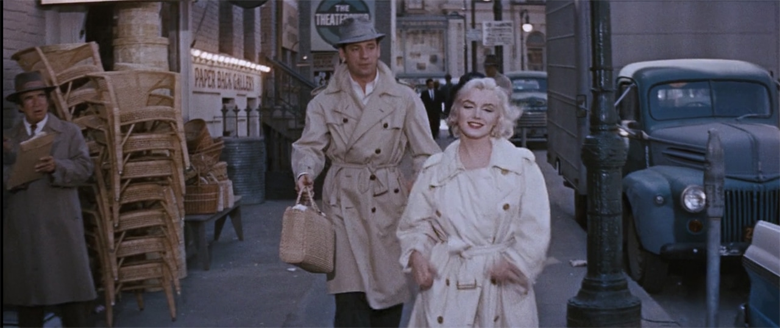 Due to its great functionality, the trench coats were worn again during WWII and even after the war by many countries, not just England. Similar to many other types of clothes which we have covered by us, like the little black dress, the trench coat became popular as it got known by more people and that cheaper versions were created for the average. Furthermore, with the golden age of Hollywood, the trench coats were worn by many celebrities like Marilyn Monroe and Audrey Hepburn which eventually made the trench coat popular till today.
Trench coat care
Today, trench coats are commonly made of leather, gabardine and cotton. When purchasing them, one has to check the clothing labels clearly for cleaning instruction. Most of them must be dry cleaned like the Long Westminster Heritage Trench Coat from Burberry. Sometimes, they would need to be spot clean instead like the dunkeld bonded cotton coat from MackinTosh. These cleaning instructions have to be properly followed to protect your priced coats.
In addition, we have listed some additional tips which you can adopt based on our drycleaning and laundry experience :
Dry clean before storage
Many dry clean their trench coat before usage instead of after and that is not advisable. Stains which are left on garments for a prolonged period of time tend to become stubborn for removal. Cleaning them then would weaken the fabric of your trench coat.
Open the straps and buckles to reduce crease lines
Have a humidifier in the closet due to Singapore climate to prevent mould
Labelled as the ultimate lifetime investment piece, it is extremely important that we practice proper care routine for our priced trench coat. Given Presto's experience in laundry and dry cleaning, we will be able to advise and provide professional cleaning services for your trench coat. With that, do contact us at 6354 3277 or send us a message on Whatsapp at 9228 3061 if you have any queries and our friendly staff will always be there to attend to your needs.